Meera and Utkarsh rode for a distance of 1835 kms in 19 days, 7 hrs and 18 minutes and covered the route from Agra to Delhi to Srinagar to Leh to Umling La; crossing five passes with an elevation of 19000 metres. Their journey started on 15th August, 2022 to commemorate India's 75- years of Independence and reached Umling La on the 3rd of September.
In 19 days, Meera and Utkarsh covered the journey from Agra to Umling La via Delhi, Srinagar, and Leh. UmingLa is at a height of 19,024 feet above sea level and was opened by the Border Roads Organization (BRO) in December 2021. The total elevation gained for this expedition was more than 19,000 meters (62,336 feet), equivalent to climbing Mount Everest twice.
Utkarsh and Meera started on August 15 from Agra at 07:40am and reached UmingLa on September 3 at 01:10pm. They had to cross five high altitude passes, including Zojila (11,649 feet), Namikla (12,198 feet), Fotula (13,479 feet), Norbula (16,991 feet) and UmlingLa (19,007 feet) for this record ride.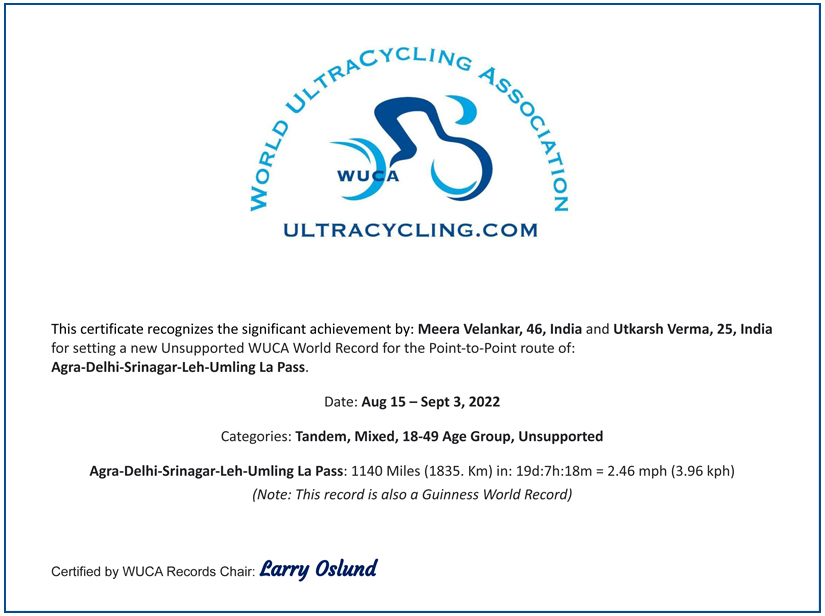 This was a self-supported ride and in this journey both of them faced extreme temperatures ranging from 38-40 degrees to a low of 5-10 degrees. Apart from harsh weather, they battled other challenges such as finance, food, hydration and accommodation.
"We both come from a different socio-economic backgrounds and despite the age gap, we managed to maintain consistency in our communication during the ride. What bothered us is the constant questioning of our relationship by the crowd that reflects lack of acceptability about gender differences in our society" said Meera.
"We are thankful to the Indian Army, Border Road Organization (BRO) and the Indo-Tibetan Border Police (ITBP) who helped us in the high-altitude terrain," said Utkarsh. "We stayed at army camps and they provided us with the basic facilities," shared Meera. Lugging around spares for their cycle was yet another task. The weather got a lot worse with the altitude, and the last 9 km was the hardest, she said.
It feels great to have a Guinness World Record. But I do wonder why we can dream bigger only if we have the money.