With the ongoing 'Vocal for Local' ringing loud in my mind, I was very excited to test this bike that has been crafted in India. After riding her, I analyzed her critically to justify weather top-class products can really be Made in India.
Aspera is an all-weather and an all-terrain bike due to its geometry, style and wheels. It can easily handle smooth roads and even bumpy trails with rough patches. This bike comes in shades of Blue, Red, Golden, Gray and Black. Since this is an indigenous product, it can be customized for frame logos, colors and even bike geometry at minimal extra cost. This is a very helpful feature for people like me who might find the right frame size with some difficulty.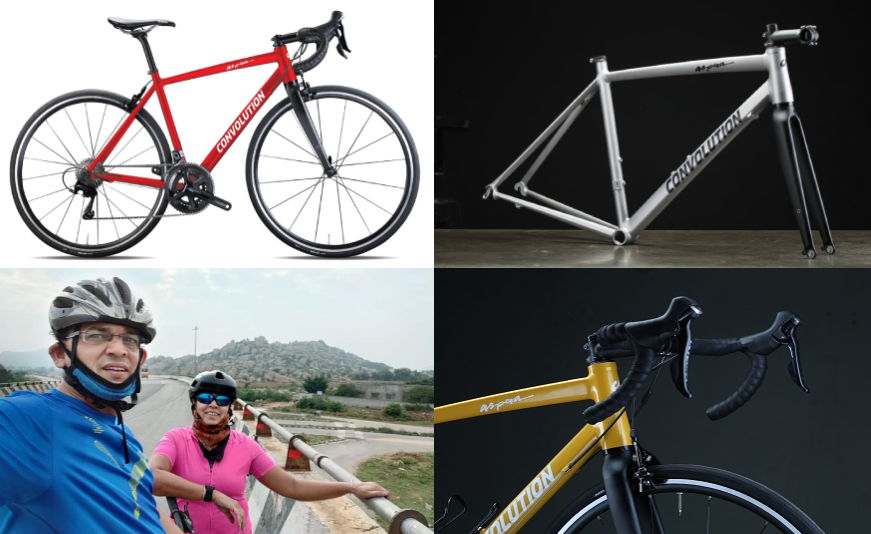 Frame and Fork: The frame has an upright riding geometry and a semi-polish look. The frame is very durable on bad roads and the bike climbs well. Although I was riding L sized bike, I did not feel any major discomfort during a 50 km ride. The Fork is made up of Al-carbon.
Drive Train: It can be customized with 3 options: Sora, Tiagra or 105 group sets.
Wheels: Very light with aero spokes 1530 gm per pair. Reynolds double walled with Maxxis 28 mm tire.
Weight: 8.6 kg Approximate (size specific)
Fit and Position: The size L of this bike can fit riders who ride M with other international brands. The fit is very comfortable and the position is not aggressive. Considering the riding position, I sometimes felt like riding a touring bike or a high-end hybrid bike but its weight is definitely in very justifiable range and closer to road bike type.
On the flip side, cabling for this bike is external and therefore maintenance could be easy; albeit it compromises on the looks.
In conclusion: Overall, Gray Convolution Aspera is an all-weather, all terrain bike. The bike can also be made available in blue, black, red, olive or gold colors. I would further love to imagine the Indian tri-colour imprinted on this bike and that is going to make a huge difference!
Rating:
Style: 3/5 , but good scope for customization on colors
Value for Money: 4/5
Performance : 4/5
Versatility: 4/5
Case Study:
I am riding my Trek 4300 which is solid MTB for practice, doing 30-50 km rides on Kolar highway. Bike weight is around 13 kgs and I generally maintain average moving speed of 18.5 of these rides. With Aspera in my hand I could easily do 25 plus average moving on 40 km ride and loved the bike. Geometry was very relaxed and non-aggressive plus it allowed me to do distance with more comfort and I was ready for another workout within hours.
I highly recommend this bike to people who wish to ride long distances or brevets.
Colors and customisation of Aspera