The COVID 19 virus pandemic has caused tremendous despair to the world and there are chances that the social distancing, restricted travel, work from homes and wearing the quintessential face-masks are here to stay for some more time. Despite the worries, there hasn't been a better time for outdoor bicycling than this and several enthusiasts are discovering the joy of pedaling. This is one legitimate activity that can take people outdoors, keep them active while maintaining distance, help burn calories and generally, help to stimulate the good hormones that are necessary to overcome the difficulties. In the past 2-3 months, India has seen the demand for bicycles go up so much that customers are, perhaps for the first time, beginning to feel bike-scarcity, a situation where good bikes or even spare parts are hard to find! How soon the situation might improve is anybody's call.
Amidst the present situation, there are a few like the Icycle store near Silk Board who are 'geared-up' to offer rental bikes and even customized rides for cycling enthusiasts. On Google, the location of this particular ICycle store may seem far away (close to Madiwala, Hosur, Anekal), but that is the best part of it since the rides/trails they organize are on scenic routes beyond the city. They have about 100 well-maintained rental bikes of various sizes and features (geared/non-geared) and all one needs to do is to reach their store by 6-6:30 am in the morning (imagine someone waking up earlier than you and taking you on a guided tour) and participate in one of their tours. The per head cost for a 2-3 hour ride is about Rs 500 /- only.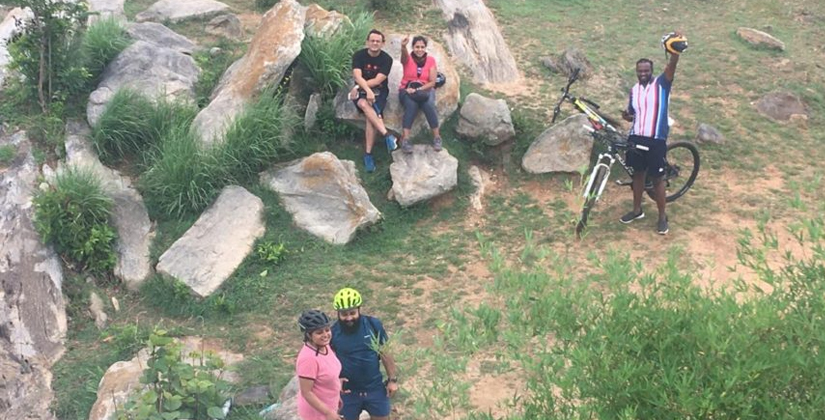 Supplementary Services: Icycle ecity also offer cycles of premium brands like Orbea, Polygon and Merida. In case you are carrying your own bike, they can also service your bike (they call it bike spa service!) within a short time and at minimal costs, post the ride. While your bike gets serviced, you can order food and loiter around and talk to the friendly owner, who has managed to turn this place into a family-friendly outlet.
During my ride last month's ride, I got opportunity to ride MTB bike of Orbea and these people are the authorized dealers for the brand. I was riding Orbea sport 10 entry level MTB, bike is 7 into 3 gears, frame feels solid and the look is classy.