There is opportunity in every adversity. In the first few races after I saddled up in 2011, I never had the correct equipment.
Merida sponsored a road bike for my first half ironman, friend Venky helped with an MTB by Polygon and a hybrid by KHS. Then came a tandem by Fantom, making me a bike tester by chance.
So far, I have used more than five road bikes, three Hybrids and five MTBs for races and other events of more than 60 km. I have also done significant distance on Brompton and other folding bikes.
During a recent Mumbai visit, good friend Pankaj Patil offered me test ride of a PPOF (Pedal Power On Foldie). It is the first folding bike designed in India. Pankaj happens to have a few foldie firsts in the country and I was excited.
When I saw him coming out of a cab with two bikes in hand I knew I was going to test something really small. The immediate next question was, will it be sturdy enough given its relatively low price.
We rode from Juhu Circle to Versova Jetty, crossed over on a ferry to ride up to Marve Jetty and from there to Mith Chowki signal, Malad.
We rode approx 20 km through fish markets, slippery lanes and bylanes, allowing me to test control and strength of the bike. I was impressed.
We crossed to Aksa Beach and found hillocks. I was a bit worried but to my amazement, the big-crank, seven-speed-Altus foldie made it a comfortable ride up hill.
I am a woman of small frame and the bike fit just fine. Lucky me! Otherwise, it is a real pain to find extra small, even small, bikes in Mumbai.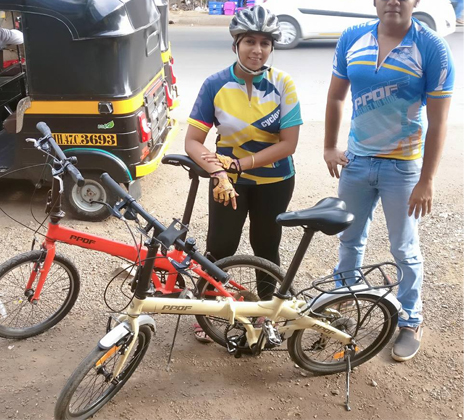 On the descent, my worry returned. I was expecting some noise or a hinge alienment issue downhill but the foldie again surprised with a stable ride.
Over chai after the ride, Pankaj told me about PPOF founders. How Vivek Jain and he shared love for folding cycles. He said they had a cool team of designers and great tech support. He said the foldies underwent several quality checks.
Later, when we stood together for a photograph I saw a small but functional carrier (120/ 255 mm).
The overall experience on the bike, 3.8-4.5 on a scale of 5. Thinking of investing in an economy folding bike for office commute or recreational rides? Do have a look at the PPOF.